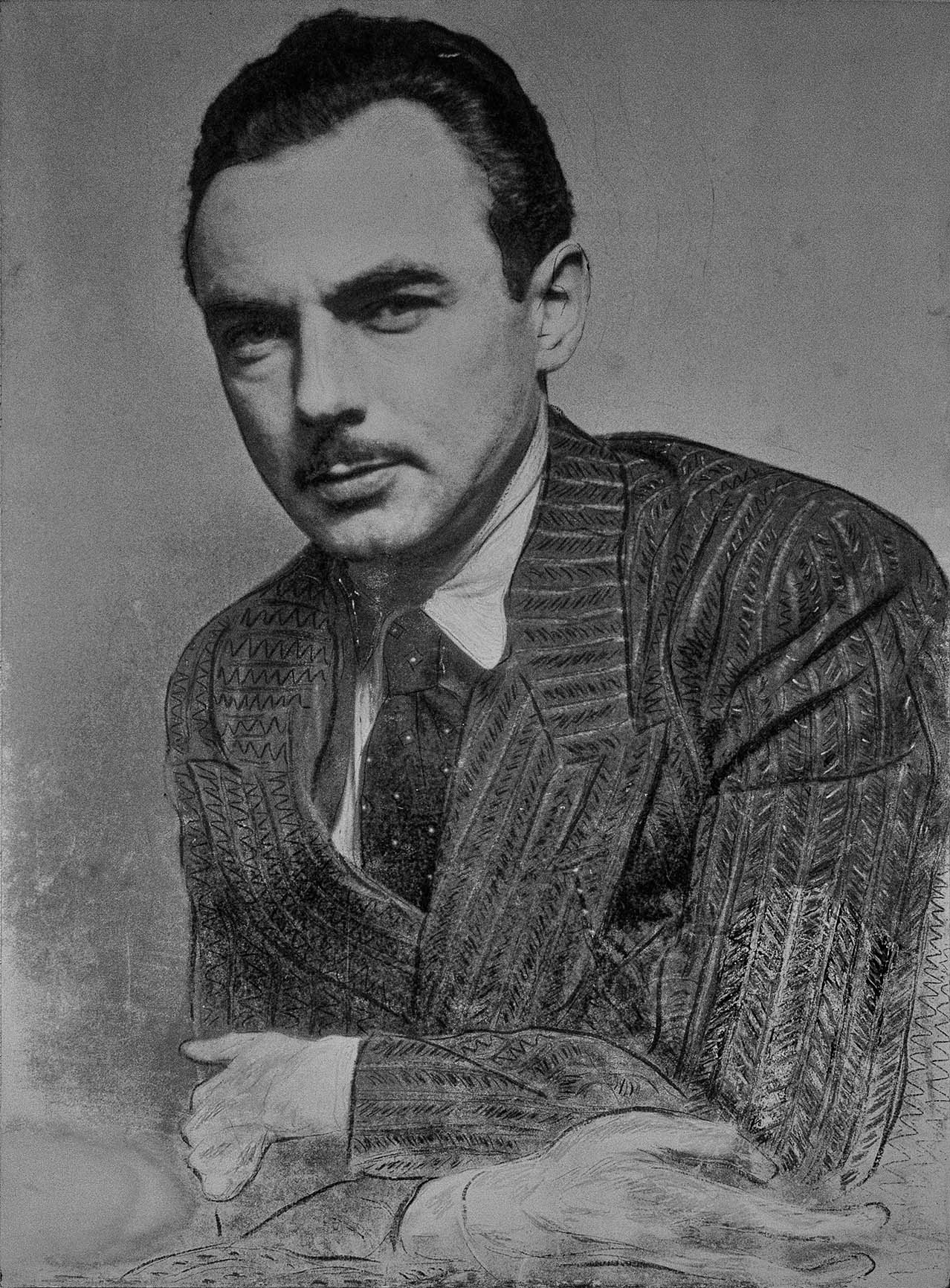 Kästner-Portrait im Museum
1899
Born on February 23,1899 to Ida and Emil Kästner
1913 – 1917
Attended Freiherrn von Fletscher Teachers' Seminary
1917 – 1918
Conscripted into and served in the military
1918
Attended final course at the Teachers' Seminary
1919
Attended the King George's Secondary School (König-Georg-Gymnasium) as guest pupil
First publication of the poem "Die Jugend schreit!" in the student newspaper, "Die Schulgemeinde des König Georg-Gymnasiums zu Dresden"
Completed secondary school exit examinations
Began studies of German language and literature, history, philosophy and history of the theatre First important publication in "Leipzig Student Compositions" ("Dichtungen Leipziger Studenten")
1920
First important publication in "Leipzig Student Compositions" ("Dichtungen Leipziger Studenten")
1921
Exchange semesters in Rostock and Berlin
1925
Received his doctorate with the dissertation on "Frederick the Great and German Literature"
1927
Relocation to Berlin
Worked as drama critic and freelance writer for "Weltbühne", "Montag Morgen" and "Vossische Zeitung", among others
1928
First independent publication - "Herz auf Taille" – poems
1929
"Lärm im Spiegel"-poems
"Emil und die Detektive"- novel for children, illustrated by Walter Trier
1930
"Ein Mann gibt Auskunft" – poems
1931
"Fabian. Die Geschichte eines Moralisten" – novel
"Pünktchen und Anton" – novel for children
"Dann schon lieber Lebertran" – short film
Elected as member of the PEN-Club
1932
"Der 35. Mai" – novel for children
"Gesang zwischen den Stühlen" - poems
Theater version of "Pünktchen and Anton" written by Max Reinhardt
"Arthur mit dem langen Arm" and "Das verhexte Telefon" – stories for children with illustrations from Walter Trier
1933
"Das fliegende Klassenzimmer" – novel for children
Kästner's books burned by the Nazis
Received publication ban in Germany
Arrested by the Gestapo for the first time
1934
"Drei Männer im Schnee" - novel
1935
"Emil und die drei Zwillinge" – novel for children
1936
"Dr. Erich Kästners Lyrische Hausapotheke" – poems
"Die verschwundene Miniatur" – novel
1937
Second arrest by the Gestapo
1938
"Georg und die Zwischenfälle" (later: "Der kleine Grenzverkehr") - novel
1939
Relationship with Luiselotte Enderle
Kästner does not get drafted (medical reasons)
1943
Final writing and publication ban in Germany and abroad
First screening of "Münchhausen" in Berlin
1945
Film expedition to Mayrhofen, Tirol and Schillersee
Permanent relocation to Munich
Formation of the cabaret "Die Schaubude"
Became editor-in-chief of the feature pages of the "Neue Zeitung"
Became editor of the children's magazine "Pinguin. Für junge Leute"
1946
"Bei Durchsicht meiner Bücher" – collection of poems
Returned to Dresden to visit his parents
1948
Independant writer
"Der tägliche Kram" - Chansons 1945 through `48
"Kurz und bündig" – epigrams
1949
"Die Konferenz der Tiere" – children's book 
"Das doppelte Lottchen" – novel for children
1950
"Der gestiefelte Kater" - renarration
Synchronfassung von "Alles über Eva / All about Eve"
1951
President of the West German PEN Center
Kästner's mother, Ida, dies in Dresden
1952
"Die kleine Freiheit" - Chansons and Prose 1949 through `52
1954
Wrote screenplay for "Das fliegende Klassenzimmer", directed by Kurt Hoffmann
"Die Schildbürger" - renarration
1955
"Die dreizehn Monate" -poems 
Wrote screenplay for "Drei Männer im Schnee"
1956
"Don Quichotte" - renarration
"Die Schule der Diktatoren" – satire
Received the Literature Prize from the city of Munich
Wrote screenplay for "Salzburger Geschichten" ("Der kleine Grenzverkehr")
1957
Premier of "Schule der Didaktoren" film, directed by Hans Schweikart in the Kammerspielen (theatre) Munich
Received the Georg Büchner Prize
"Als ich ein kleiner Junge war" – autobiographical novel
Birth of son Thomas on December 15th
Kästner's father, Emil, dies on December 31st
1958
Premier of film "Haus der Erinnerung", directed by Hans Schweikart, at the Kammerspielen (theatre) in Munich
1959
Awarded the Federal Cross of Merit (Bundesverdienstkreuz)
1960
Awarded the Hans Christian Andersen Medal in Luxemburg by the Board of Trustees of Literature for Youth (Kuratorium für das Jugendbuch)
1961
"Notabene 45" – diary from 1945
"Gullivers Reisen" - renarration for children
1962
"Das Schwein beim Friseur" – novel for children
1963
"Let's face it", poems, Jonathan Cape Ltd., London
1967
Last publication: "Der kleine Mann und die kleine Miss" – novel for children
1969
"Gesammelte Schriften für Erwachsene", collected works
1970
"Kästner anekdotisch", published by Luiselotte Enderle
1974
Died on July 29, 1974 in Munich
Videobeitrag zum Museum
©Marcus Mötz
The majority of Erich Kästner's is held by the Deutsches Literaturachiv Marbach and the Erich Kästner Kinderdorf Oberschwarzach.
Please address your copyright inquiries to the administrators of Erich Kästner's estate.
Department of Images, Deutsches Literaturarchiv Marbach
W1-Media GmbH
Semperstraße 24
22303 Hamburg
Ansprechpartner: Johann Gutjahr
Tel.                  +49 (0)40 / 607 706 – 701
Fax                 +49 (0)40 / 607 706 – 700
E-Mail:            j.gutjahr@w1-media.de